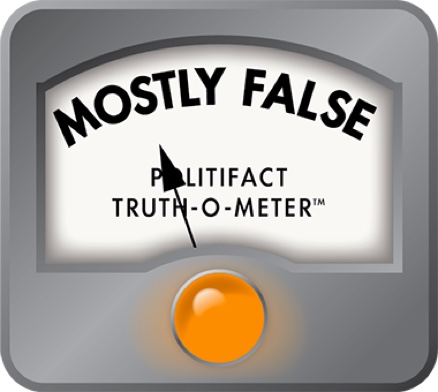 Wisconsin Gov. Evers is not a career politician
The race for governor of Wisconsin has become the The nation's most expensive 2022 general electionwith Republican challenger Tim Michels positioning himself as the underdog businessman.
With this strategy, of course, he is looking for the perfect foil – a career politician.
But that's not exactly how most would describe Gov. Tony Evers, the Democrat who won the job four years ago. Still, there was the claim in a video of Michels posted Sept. 4 on Twitter: Evers is "a career politician".
Let's take a closer look at Evers' resume — and Michels'.
From teacher to governor
During his political campaigns, Evers, 70, has bragged about his time as a young adult working scraping mold from cheese at a Plymouth cheese factory, as well as helping as a nurse at Rocky Knoll, where his father was the director of the Sheboygan County Hospital and Sanitarium.
Evers graduated from the University of Wisconsin-Madison, with a doctorate in education in 1986 after earning his undergraduate degree there in 1974 and a master's degree there in 1978.
Before starting his master's degree, he worked as a science teacher at Baraboo (1974 to 1975).
While working on his graduate studies, Evers served as a teacher and media coordinator at Tomah Elementary School (1976 to 1979), principal at Tomah Elementary School (1979 to 1980) and later principal at Tomah Secondary School (1980 to 1984), all in Monroe County.
He then became Superintendent of Oakfield Schools (1984 to 1988) in Fond du Lac County, then Superintendent of Verona Schools in Dane County, where he served until 1992.
He then became a director of a Cooperative Education Services Agency (CESA) in Oshkosh, from 1992 to 2001.
(The Legislature created 12 CESAs in 1965 to replace the office of county superintendent of schools and to serve as a link between Wisconsin school districts and between districts and the state.)
Then, for nearly two decades, Evers worked for the Wisconsin Department of Public Instruction, first as a state deputy superintendent between 2001 and 2009, then as a state superintendent from 2009. to 2018 (he was elected to this position twice more in 2013 and 2017).
This is the first time there has been talk of holding elective office – the highest office, that of state superintendent, is a nonpartisan elected constitutional office. As such, the elected state superintendent cannot affiliate with a political party while in office.
Of course, as state superintendent, Evers engaged in politics, in that he had a platform he could use to advocate on education issues, ask for budget increases and more. Like state Supreme Court contests, there is often a partisan split among the candidates' supporters. And, of course, Evers used the job as a stepping stone to the governorship.
The post didn't include the same partisan dynamics as governor, but it would be naive to suggest there isn't a political element to it.
Indeed, Evers was made an MP in 2001, after an unsuccessful bid for the post. And he had already raced in 1993, when he lost to John Benson.
This brings us to the 2018 Wisconsin gubernatorial election, in which Evers won the Democratic nomination and then ousted Republican Scott Walker. It was his first time running for partisan office — but his sixth attempt at statewide office.
So in Evers' 48-year professional career, you can count his time as a politician two ways — four years in partisan office or 17 in any elected office.
Anyway, most of his career was spent as a teacher and administrator in a public school.
"Governor Evers, who has spent most of his life fighting for the children and schools of Wisconsin, has worked as a caregiver, teacher, factory worker and manager," said Britt Cudabeck, spokeswoman for Wisconsin. 'Evers, adding "the thousands of people in Wisconsin who work those same jobs every day would be shocked to learn that Tim Michels thinks they are 'career politicians'."
Tim Michels and his journey
As we sift through the resumes, let's take a look at Michels, 60, who is actually running for a third elective position.
Michels' first attempt came in 1998 when he bid for the state Senate, losing to incumbent Senator Scott L. Fitzgerald in the Republican primary.
In 2004, Michels ran for the U.S. Senate, defeating auto dealer Russ Darrow Jr., State Senator Robert Welch, and attorney Robert Lorge in the Republican primary.
He lost that fall to incumbent Democratic President US Senator Russ Feingold, whom he also called a "career politician".
(Fun fact: When U.S. Senator Ron Johnson called Feingold a career politician during a 2016 rematch between the two, we noted that was pretty much true.)
Michels received her Bachelor of Arts in Political Science from St. Norbert College in 1984.
From 1984 to July 1996, Michels was also in the United States Army as an infantry officer and as a plans, operations, and training officer. He had no deployment. At the end of his service, he held the rank of major, according to his military records.
He went on to earn an MBA from the University of Chicago and an MPA, or Masters in Public Administration, from the Illinois Institute of Technology in 1997.
Since 1998, after the death of his father, Dale, Tim Michels and his brothers, Pat and Kevin, have run the family's Brownsville-based energy and infrastructure construction company, Michels Corp. The company had forecast revenue of nearly $3 billion. in 2018, according to BizTimes Milwaukee.
Michels is both co-owner and vice-chairman, but said he would divest from the company if elected governor.
In April 2022, Michels filed paperwork with the state's Election Commission, beginning his run for governor of Wisconsin — his third attempt to win public office.
We asked the Michels campaign for evidence of their claim and comment on the candidate's own prosecution for elected office, but did not hear back by the deadline.
But since this application is based on a resume, it was easy to gather the material we needed.
Our decision
Tim Michels has claimed that Evers is a "career politician".
In his 48-year professional career, you could say he held any elected office for 17 years or spent four years as a partisan politician. Calling him a "career politician" ignores 31 years, more than half of his professional life.
But we also can't ignore two previous, unsuccessful attempts to win the statewide job. This means we have a statement that "contains an element of truth but ignores critical facts that would give a different impression."
And that's our definition of Mostly False.