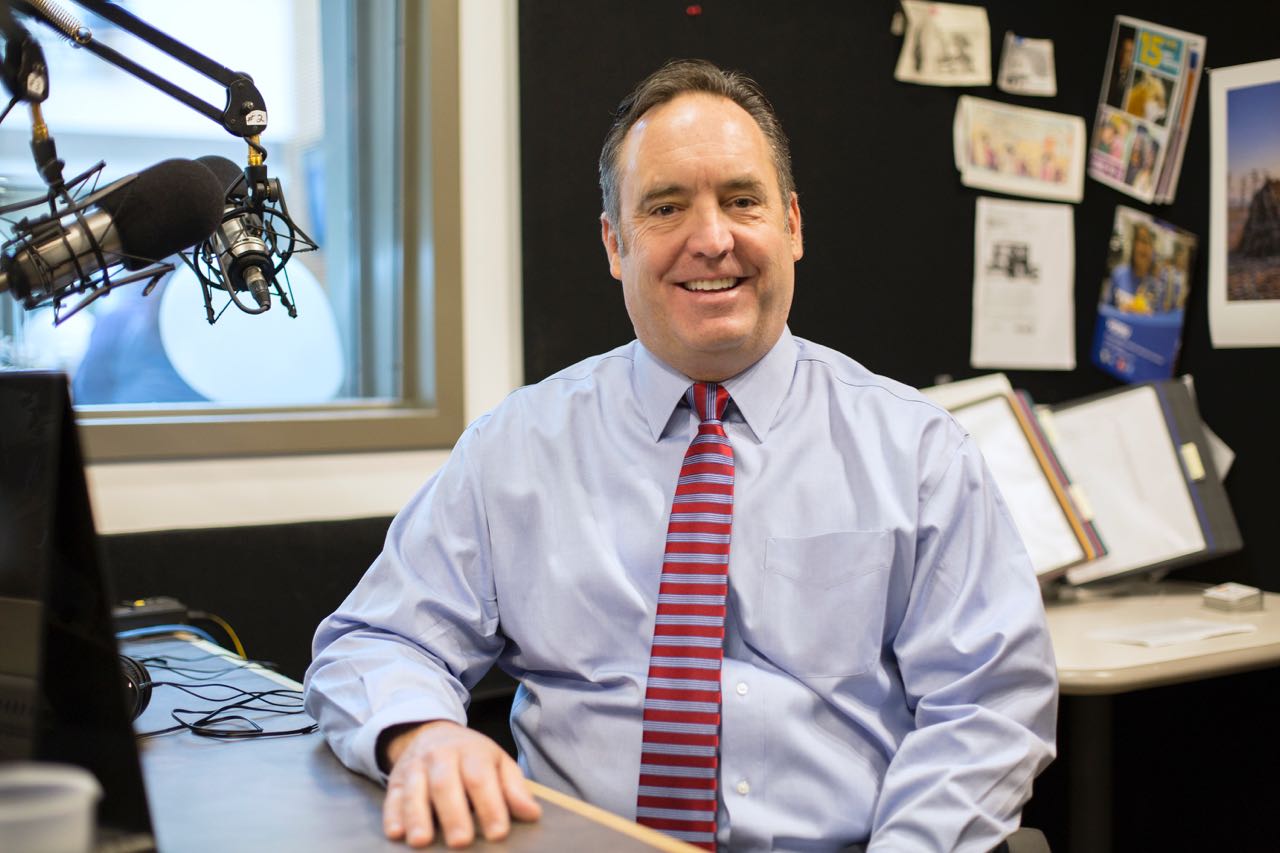 The Republican race for Pennsylvania governor: WPSU interviews Jake Corman

Anne Danahy/StateImpact Pennsylvania

Nine Republicans are vying for their party's nomination for governor of Pennsylvania in the 2022 primary. The Democratic primary for governor is not competitive. WPSU has invited all Republican candidates for interviews leading up to the May 17 primary. Here is the conversation Anne Danahy of WPSU had with Jake Corman.
Anne Danahy
Jake Corman thanks for talking to us.
Jake Corman
Glad to be with you, as always.
Anne Danahy
You are the acting President of the Pennsylvania Senate, having served in the Senate since 1998. And you are also one of nine candidates in this race. You all agree on certain points. What sets you apart from other candidates?
Jake Corman
I think from my experience, you know, I'm the only one who really knows the process and how Harrisburg works and how to get things done. You know, I've spent a career tackling big issues, whether it's issues like public pension reform, whether it's issues like the governor's shutdown, you know, jobs and state enterprises, whatever it is, I took the big problems and managed to solve them. A Corman administration won't need a transition, we can step in from day one and understand the process, be able to work with the legislature. You know, we've had a governor for two years who hasn't worked with the legislature at all. And so, you saw a malfunction. You want someone who can work with Republicans and Democrats, the Legislature so that the Legislative Branch, the Executive Branch can work together to improve the lives of the people of Pennsylvania. At the end of the day, it's our job in public service, it's to do things and make the lives of the people of Pennsylvania better. I have the skills and the ability of my experience to achieve this. And I look forward to the challenge.
Anne Danahy
And you said you wanted to get rid of mail-in voting, which was facilitated by Bill 77. It was bipartisan legislation passed before the pandemic, and you voted to allow mail-in voting. Why the change?
Jake Corman
Absolutely. Look, you know, Bill 77 was a bill to improve people's abilities to access the vote, which is what we should all be for. Unfortunately, Governor Wolf made it a vessel for the opportunity to commit fraud. We are seeing this by now having several weeks of unapologetic mail-in voting. And then you combine that with the Dropbox, which was not passed by the legislator. It got rid of the verification of signatures on mail-in ballots, which was still part of the mail-in ballot process. And so what you saw, and we saw it in Lehigh County where we had more votes than people who showed up to Dropbox, and in Philadelphia County where they were supposed to keep the video of the drop boxes for two years by federal law. They didn't keep it for some mysterious reason. By getting rid of all these security measures, you have sown doubt in the process. And that's the worst thing you can have in a democracy – is there any doubt about who won and who lost. Look, elections come and go, don't they? Republicans win some years, Democrats win some years. It is democracy. But everyone feels good about having the ability to affect change at the ballot box. We must do all we can to restore faith. And I think scrapping the system and then ultimately rebuilding it is the way to go. And and, you know, unfortunately, that's where Tom Wolfe, the position he put us in. But I think it's the right thing to do so that we can restore confidence in the electoral process.
Anne Danahy
Yes, and I will just note that there is no evidence of widespread voter fraud. I mean, someone casting a ballot for someone else might not be legal or allowed, but that doesn't mean it's fraud per se.
Jake Corman
One hundred percent. But it's illegal. First of all, it has to stop. But I didn't say there was widespread fraud. What I said is that we have clearly seen situations where there is the possibility of fraud, and we don't know the extent of it, because the prosecutors do not prosecute these individuals, do not bring them to find out why they vote for other people. We don't have the Philadelphia video at all. The problem is that we don't have the capacity, the knowledge to know the extent of the illegal activity. The fact is that it is illegal and we should stop it. And I think that's the best way to end it.
Anne Danahy
In this primary race, you have always been lower in the polls and not among the top. Why do you think that is?
Jake Corman
I think the leader in the polls throughout this campaign is the undecided voter. It's clear. And so, you know, it's my job and every candidate's job to come out and make their case to the undecided voter. I think you see that the people for the most part, who are a bit ahead in the polls – although we're all very close – are the people who have spent the most money, which is certainly not, you know, new to government and politics. And so, but there's still a huge undecided voter. We plead our cause, until the end. I think my experience is a differentiator for me, like I said before, and we will continue to defend that until the end.
Anne Danahy
And you talked about jobs and job opportunities and making that a priority. What specific actions would you take if elected governor to improve these job opportunities in Pennsylvania?
Jake Corman
Excellent question. I mean, that's the most important thing. So I think we start first by embracing energy conservation. Pennsylvania has a huge amount of natural resources. We have access to markets, we have superior education, intellectual capital like no other in the world that is being created here in Pennsylvania every year. Everyone should want to settle in Pennsylvania. Unfortunately, we have had a governor for the past eight years who is ideologically opposed to fossil fuels. And so, the great opportunity for job growth in Pennsylvania has been lost because it refuses to embrace it and find ways to be creative to create jobs. I will change that. I'll make sure we're creative just like we were with a tax credit program that located the Beaver Cracker facility in Beaver County by Royal Dutch Shell just like we did by creating a tax credit incentive policy in Luzerne County, a $6 billion investment. , 4,000 construction jobs and hundreds of permanent jobs. We shouldn't have two examples, we should have a hundred. You know, whether people like it or not, you know, fossil fuels will be part of our future for decades to come on this planet. And either we can have dictators around the world who hate us and drive up energy costs for American consumers, as we've seen now with what's happening in Russia and Ukraine. Or we could produce it domestically, which we do better for the environment than anywhere else in the world. We can create jobs here and benefit from them here.
Anne Danahy
And we have a few seconds left. In a few sentences, what would be your priority if you were elected?
Jake Corman
Well, my top priority is jobs and freedoms. Two years ago, this would probably have sounded like a cliché. But for the past two years, a governor told us, you know, who can go to work and who can't go to work, you know. Whose work was essential and whose work was not essential. A President of the United States told us, you get vaccinated or you get fired. It's an amazing thing to have in the United States of America. We are not talking about Russia and Putin, we are talking about the United States of America where our leaders are dictating our lives, something we are not used to and should never happen again. And that's why we passed a law to make sure no governor could do what Tom Wolfe did, Republican governor or Democrat of the future. It is important that we protect our freedoms, to give people employment opportunities. Because you're not really free if you don't have economic security. It's important that we create an environment where businesses will want to invest in Pennsylvania, to locate in Pennsylvania, to create jobs for Pennsylvanians, so they can provide for their families and support their businesses.
Jake Corman
And finally, I just want to mention, you know, we have a real crime problem in Pennsylvania. You know, the peak – since the riots of 2020. We've really seen this progressive movement of not holding people accountable has really spiked our crime problem in Pennsylvania. That's why I'm so proud to have the statewide FOP recommend my candidacy. And because again, we can't have freedom, we can't have good jobs, if we don't have safe communities. And as Governor, I will fight this fight with our men and women in uniform to keep our communities safe.
Anne Danahy
Senator Jake Corman, thank you for speaking to us.
Jake Corman
Thank you. Always a pleasure to be with you Anne.
Editor's Picks