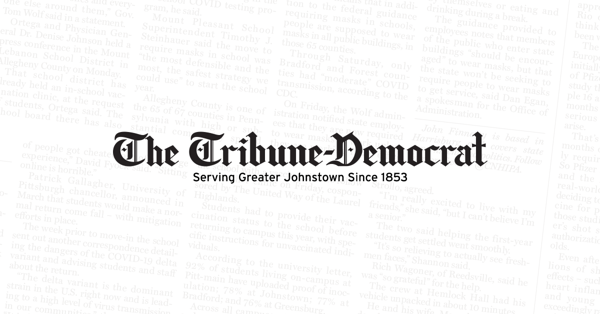 Rigby Wins Pennsylvania Water Environment Association's Public Official of the Year Award | Local News
JOHNSTOWN, Pa. — State Representative Jim Rigby, whose 71st Legislative District includes Johnstown, received the Public Official of the Year award from the Pennsylvania Water Environment Association.
The announcement was made at the organization's annual meeting Monday at State College.
Rigby, a Republican from Ferndale, was nominated because he introduced House Resolution 149 which, according to a press release, "challenges a Department of Environmental Protection (DEP) proposal to revise part of its authorization process".
"It is an honor to be recognized by an organization that plays a key role in maintaining water quality throughout Pennsylvania," said Rigby. "Our job as lawmakers is to equip groups like this with the tools they need to do their job, and I'm happy to be able to work on legislation that benefits them and consumers in the state. "
The resolution passed the House by a vote of 119 to 81 last December.
It directs "the Legislative Budget and Finance Committee (LBFC) to study the cost and methods for licensees to comply with the proposed revisions to general DEP permits PAG-07, PAG-08 and PAG-09, which , among other requirements, adds phosphorus application rates based on the index (P-Index).Adding a P-Index essentially imposes major changes on the licensee, potentially requiring significant local investment and costs which will ultimately be passed on to the consumer," according to a memo Rigby circulated when seeking co-sponsors.
"To provide context, the DEP proposes substantial revisions to the General Permits (PAG-07, PAG-08 and PAG-09), which will significantly alter the economic and environmental impacts of biosolids management in the Commonwealth. These unfunded mandates will have a cascading impact, including increased costs to the licensee and taxpayer, with little or no discernible positive impact on the environment.
"The proposed revisions are drafted to impose significant additional regulatory controls and financial constraints. In addition, this license change represents a significant promulgation of public policy, which has been reserved for our regulatory review process, a process that provides opportunities for legislative and public input. I think a general permit review of this magnitude should go through a deliberative process with due process, including an analysis to determine if there is a discernable net environmental benefit.
PWEA said the legislation "clearly illustrates the requirement for attribution to take decisive action to address a financial and operational issue that wastewater providers would face if the planned DEP changes were to come into effect. In addition, HR149 will promote effective service delivery by requiring that the costs and benefits of the DEP's proposed action be considered before changes are implemented.
The PWEA provides continuing education for water quality professionals who must maintain wastewater or potable water licenses.
It was founded in 1926.
Dave Sutor is a reporter for The Tribune-Democrat. He can be reached at (814) 532-5056. Follow him on Twitter @Dave_Sutor.