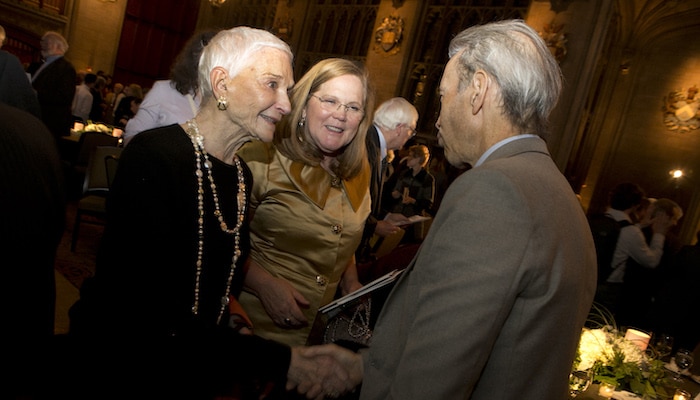 Remembering politician Frances 'Sissy' Farenthold, Bulletin supporter
Left to right, Sissy Farenthold, Patricia Dougherty and Tim Rieser at the Bulletin's 2019 annual event in Chicago. Photo by Ana Miyares.
She was still "Sissy" for her friends, and Frances T. Farenthold was still "Sissy" for the Bulletin of the Atomic Scientists.
But Farenthold was much more, including a women's rights activist, lawyer, politician and trailblazer.
She died on September 26 at her home in Houston from complications from Parkinson's disease, according to the Washington Post. She was 94 years old.
"Sissy was a force of nature, and we at the Bulletin were so touched that she shared a little of that force with us," said Rachel Bronson, President and CEO of the Bulletin. "She was a remarkable woman who in recent years always traveled to Chicago to support our annual event. When she cared, she seemed to put her body and soul into it.
Farenthold was born Mary Frances Tarlton in Corpus Christin on October 2, 1926 when the The New York Times describes as a "prominent democratic family". She received a law degree from the University of Texas in 1949 and launched her political career in 1968 when she was elected to the Texas legislature. She served two terms in the Texas House of Representatives, where she "helped improve legislative transparency in the wake of a government stock fraud scandal and led the passage of a state amendment on equal rights, "according to the Times.
She was a pioneer of leadership and politics, including a vice-presidential nomination in 1972 long before Geraldine Ferraro went to the 1984 poll. Farenthold also became the first President of the National Political Caucus in 1973 and the first female to serve as president of Wells College in Aurora, NY. She has been a two-time candidate for governor of Texas and has already been named to a list of America's 50 Most Powerful Women.