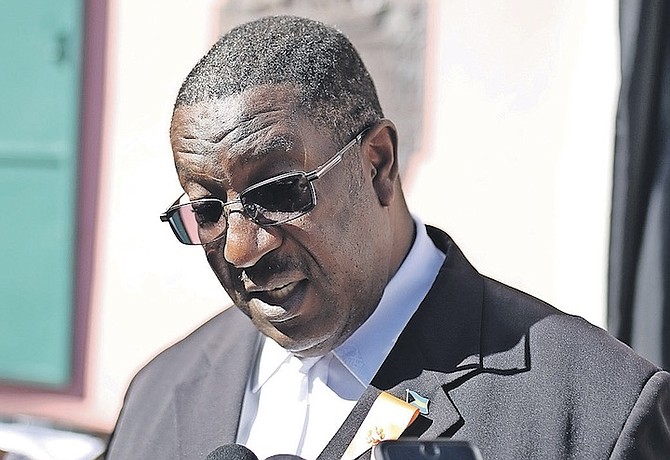 President renews complaints against atheist public official
[ad_1]
Speaker of the House Halson Moultrie.
By RASHAD ROLLE
Principal journalist of the Tribune
HOUSE Chairman Halston Moultrie said yesterday he had 'problems' with the atheist beliefs of Finance Secretary Marlon Johnson as he doubled down on his criticism of the senior official by saying he had insulted Parliament and disrespectful to the office of the president.
President Moultrie – who has never identified Mr Johnson directly – has apparently targeted the executive's decision to resume a parliamentary lunch program without his knowledge and with Mr Johnson's assertion in private that the the cost of a new Hansard to the House of Assembly was too high.
He raised the issue earlier this week, but did so again yesterday after East Grand Bahama MP Peter Turnquest, former finance minister, began his contribution to the budget debate by defending Mr Johnson.
President Moultrie interrupted Mr Turnquest after the MP accused him of having "unfortunately inadvertently" misled the House when he "berated the acting financial secretary".
Denying targeting an official, President Moultrie said, "I certainly don't think everything I said was wrong because I just reported the facts. These facts have not changed. They remain the same so I don't want you in your approach to attribute anything to me in your efforts to protect… any member who may be a public servant. The remarks that I have made with regard to the person to whom I have addressed, I have reflected on these remarks before making them and I support them. I don't see them as an attack on a public servant.
"He has publicly expressed his beliefs. I have problems with these beliefs because they are incompatible with mine and I expressed my point of view regarding these beliefs and I am convinced that when I sat down and met the person, he m 'presented information as president and head of the legislative branch. He was disrespectful because he did not first have the courtesy to consult the Speaker or anyone else in this Parliament before making decisions that would affect Parliament, and secondly he alleged that the documents presented to him were inflated and I asked him to produce the evidence.
"He has not been able to produce any evidence to support this claim. This assertion offended me because I understood that he was suggesting this information that was sent … we had four quotes, it was approved by the Contracts Board and it was sent to Cabinet and approved by Cabinet, but he had the audacity, in my opinion, to come and sit down in front of the Speaker and suggest that this was overkill.
"I asked him to produce the evidence. He indicated that he was not free to produce the evidence. Now I am a qualified lawyer. You can't come and convince me and set up a case and refuse to produce the evidence and so I'm part of the special group as regards what happened and what my experience was and I'm not going to allow anyone to suggest that I was unfair to him because I think what he did was insulting and disrespectful to this Parliament and the President.
In response, Mr. Turnquest suggested that the Chairman did not understand his point and should have let him finish his reflection.
"Honorable Member, you have started badly," replied President Moultrie.
Mr. Turnquest replied: "With all due respect, Mr. President, you have the right to express your opinion and I have the right to express my opinion."
President Moultrie then said: "And your opinion cannot infringe my rights. "
The two argued for several minutes, but President Moultrie ultimately refused to let Mr. Turnquest continue. The former minister quickly explained that he had made the decision to cancel the parliamentarians' lunch last year.
Earlier yesterday, President Moultrie accused unidentified parliamentarians of spreading stories about him on social media sites.
His comment followed a speech by Minister of Public Services Brensil Rolle.
"You raised the issue of social media and in my opinion social media is a double-edged sword," he said. "As you said, things you might have done and a lot of things you might not have done can show up on social media, but we, as the honorable members of this place, must maintain the norm and making sure we're not the initiators of some of those things we see and hear on social media. Because I am aware and information has come to me that some of the media stories that I have received and some that have been broadcast about me have been initiated by some of you and some stories that have been broadcast on other members of this place have been initiated internally and it is shameful, in my opinion, that a member of this House engages in such activities.
"I don't want to name anyone but trust me I was about to do so many times but I don't think it would be in the best interest of this institution or the members who have been identified with me.
[ad_2]