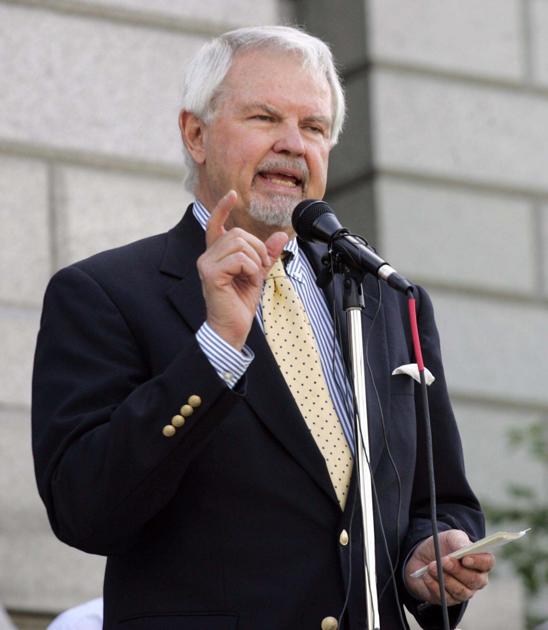 PERSPECTIVE: Remembering Governor Dick Lamm | Opinion
Dick Lamm was the most popular and controversial governor in modern Colorado political history.
He was stubborn, outspoken, and also the most published governor in Colorado history. He enjoyed reading, writing and arguing on public policy issues. He was fortunate to have an attractive and lively wife who shared his passion for politics and public life.
He died at the end of July, a week before his 86th birthday. Memorial services will be held to celebrate his life and service at 3:30 p.m. on August 31 at the Wings Over the Rockies Museum in Denver's Lowry neighborhood, 7711 E. Academy Boulevard. Services will air on the TV channel Denver CBS 4.
We remember him as a very bright and dedicated person who loved politics and liked give and take when trying to form political coalitions. He espoused opposing positions, but rarely held a grudge or engaged in small personal arguments. He had a special way of making his point known and being friendly with those who disagreed.
He was also willing to admit his mistakes – at least some of the time. He was also known to have advised a large number of young people to get involved in political life. He did so even as he grew increasingly frustrated with what he saw as a dysfunctional two-party system in America.
Richard Douglas Lamm began his career in the Colorado public service when he came to Fort Carson in Colorado Springs 64 years ago, in 1957, as a young army officer. He fell in love with Colorado and its mountains. Over the next several years, he would climb almost all of our fourteen (14,000-foot-high mountains), kayak in most of our rivers, and ski in most of our destination ski resorts. He was also a vigorous cross-country skier and runner.
His four-decade career in Colorado and in national politics has been remarkable. He served as a representative to the South Denver State Legislature during the presidencies of Lyndon Johnson and Richard Nixon. He began running for governor in 1974 when President Nixon was grappling with the Watergate scandal. Lamm served as governor while President Gerald Ford and President Jimmy Carter were in the White House and during three-quarters of Ronald Reagan's presidency.
Lamm served three terms (12 years) as governor of Colorado. He unsuccessfully ran for the Democratic nomination to be US Senator from Colorado in 1992. Then, in a political surprise, he ran for the Reform Party nomination from Ross Perot for President in 1996. That effort was interrupted when Perot decided at the last moment to run for office for the Reform Party nomination.
For the record, Lamm won about 35% of the vote against Perot in the 1996 Reform presidential primary. Perot was then defeated in the presidential election by Democrat Bill Clinton in the fall general election.
Lamm received a degree in accounting from the University of Wisconsin. He then obtained a law degree from the University of California at Berkeley. In 1962 he returned to Denver as an accountant and young lawyer. Like many young lawyers, he was involved in various causes. He migrated to electoral politics before the age of 30.
He enjoyed being a state legislator and rose to prominence as an activist in the crusade for abortion rights, women's rights and "limit to growth" environmentalism.
Lamm was elected governor of Colorado in 1974 at age 39. It was a good election year for Democrats in Colorado and across the country. Due to the Watergate scandal, President Nixon was forced to resign in August. Nixon's misconduct weakened Republican candidates nationwide.
It was the same year Democrat Gary Hart won his first race for the U.S. Senate from Colorado, and Tim Wirth won an upset victory to become a young member of the U.S. House of Representatives from the Boulder area.
Lamm had been a leader in the fight to prevent the 1976 Winter Olympics from being held in Colorado. He argued that most people did not want to use public finances to subsidize the ever-expensive Olympics. He also argued that the construction and growth involved would turn Denver into another Los Angeles.
This made him popular with many people and controversial with many others. Lamm liked to be controversial and was an early and regular advocate for sustainability, population limits and a less consuming society. His views were similar to those of the Earth First movement and inspiring environmentalists such as Edward Abbey and Aldo Leopold.
Lamm won his first governorship in 1974 with 53.2% of the vote in what was then considered a pretty Republican state. For most of his 12 years as governor, both houses of the Colorado State Legislature were firmly under the control of opposition Republicans. Lamm has regularly fought with the Republican state legislature over issues such as opposition to the development of oil shales on the Western Slope of Colorado.
He was an early supporter of the United States Constitution Equal Rights Amendment, which expanded women's rights. It was passed in Colorado and by Congress, but failed to gain the support of three-quarters of state legislatures. He also made waves by supporting physician-assisted suicide, long before the idea was widely supported. He further stoked the pot by claiming that we were wasting too much of our health care funds on keeping the elderly alive for a few more months rather than investing more in preventative health care for young people.
Despite support for these causes, Lamm's electoral popularity increased rather than decreased. He was re-elected as governor in 1978 with 58.7% of the vote. He won his third gubernatorial race in 1982, now under presidential Ronald Reagan, by a remarkable 65.7%.
He was still popular in 1987 when he voluntarily stepped down as governor of Colorado. He had a good chance of winning a fourth term as governor if he had wanted to run.
Lamm enjoyed being a teacher and a maverick. He didn't mind bothering Democrats by opposing immigration and supporting tighter controls on the US-Mexico border. He spoke out against the wasteful health care system in the United States and worried about the rapidly rising costs of benefit programs.
Lamm's political philosophy was a complicated mix of liberalism, populism, environmentalism, nationalism, and even libertarianism. His accounting background has encouraged him to say frequently, "We live on borrowed time and borrowed money. He became more conservative on at least a few issues as he took office, and even more of a grumpy Cassandra in the years that followed.
He was also a crusader to preserve the vulnerable American West from oil shale mining developments. Lamm has given increasingly serious warnings about how large-scale U.S. energy projects would threaten Colorado's natural beauty.
He liked to talk about tough public choices: "Our waterways must support fishing and wildlife, agriculture and industry. It's going to take a fair amount of creative planning to bring balance and harmony. "
Critics accused Lamm of being unnecessarily gloomy, but he would respond that he was just a realist. He was worried about a Colorado that could end up with 10 million people (we're on track at 6). He feared that too many US state and government programs were misdirected.
He liked the slogan: "Beware of solutions that are appropriate for the past but disastrous for the future."
Lamm enjoyed talking to people from all political perspectives on how Colorado could better plan and meet its economic and environmental challenges.
We remember a mature Lamm who aspired to remain active in politics but found the two-party system inadequate for new challenges. He openly criticized his Democratic Party for being too influenced by litigators and unions. He was distressed by the relentlessly pro-growth and right-wing money interests that swayed the Republican Party. He spoke regularly with us and other friends about dysfunctional aspects of the political and economic systems in the United States.
Most of the books Lamm wrote dealt with public policy challenges such as the health care system, population growth, immigration, and threats to the environment. But his most revealing book was a novel titled "1988" co-authored with his longtime friend Arnie Grossman.
Their protagonist is a conservative Democratic governor of Texas who decides to run for President of the United States as an Independent. This governor became impatient with the particular interests of the Democratic Party. He thinks he could forge a middle, more moderate and reasonable path between the main political parties.
One of the stakes of the campaign was that it would improve border security (sounds familiar to you?) And limit the flow of undocumented workers to the United States.
Lamm and Grossman were writing in the mid-1980s. This novel, in many ways foresight anticipated Ross Perot's maverick presidential campaigns of 1992 and 1996. It also foresaw elements in Republican Donald Trump's campaigns for the presidency. of the United States in 2016 and 2020. The novel also helps explain Lamm's falling out. with the Colorado Democratic Party and join Ross Perot's Reform Party in the 1990s.
Lamm loved his role as a catalyst and provocateur. He enjoyed solving problems and getting the Coloradians to think sensibly about the future. Many of those who disliked his political choices nevertheless admired him for his honesty, his frankness and for "telling it as it is", at least from his point of view.
Lamm was personable, engaging, and had a healthy sense of humor. He loved Colorado, enjoyed being in public life, and enjoyed lecturing and teaching. It was, as her family and so many friends have said, a memorable life lived in a memorable way.
Tom Cronin and Bob Loevy write regularly on Colorado and national politics.