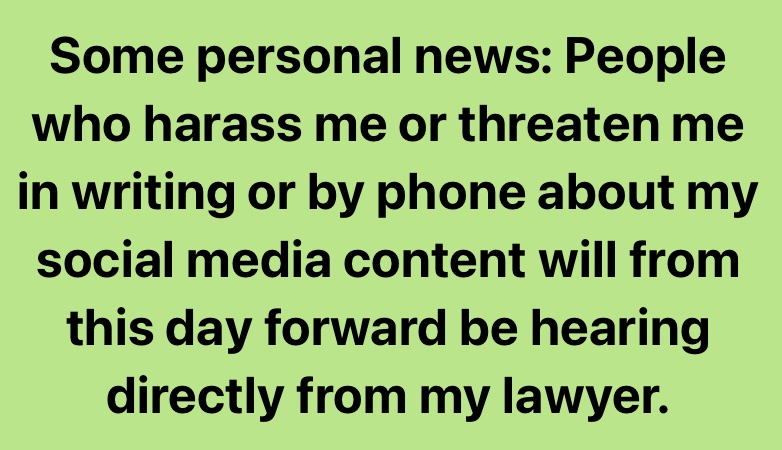 Oops, she has started again: a public official threatens to sue MRAK
[ad_1]
[Redacted] City prosecutor Libby Bakalar, who demands Must read Alaska not name the town for which she is counsel, wrote a threatening letter Suzanne Downing, editor of the Must read Alaska news site.
Through his attorney, Juneau's trial attorney Mark Choate, Bakalar asks Downing not to write about him again or there will be a trial.
In October, she posted a message on social media (see above) saying anyone harassing her would hear from their lawyer. Now, even writing about his political work on social media is enough to trigger that trigger.
Bakalar is suing Gov. Mike Dunleavy because she was fired after the Walker administration was shown the door by voters in 2018. She was a lawyer at the Department of Justice and says she was wrongly fired by Dunleavy. She also doesn't want Downing to write about it.
"Your ongoing exploitation and re-posting of Ms. Bakalar's personal social media in tandem with repeated references to her post as Bethel City Prosecutor is clearly aimed at provoking demands and actions to end this employment. You engaged in similar criticisms of her while she was Deputy Attorney General and continued after her unfair dismissal by the Dunleavy administration. Your resumption of these efforts constitutes "tort interference" in an employment contract, for which you and your company could face significant liability.
and damages, "says Choate's letter.
Bakalar is obviously upset by a repost of her work on social media in which she depicts male genitals on a logo used by the governor for a podcast featuring his commissioners talking about their departments. The social media post makes it look like she or someone drew the male genitals on the logo as a joke:
"When considering claims of tort interference in a contract, the Supreme Court of Alaska recognizes a clear distinction between those who interfere with the contracts of competitors and those who interfere with the contracts in which they themselves have. a direct interest. Even where there is a direct financial interest at stake, "the essential question in determining whether the interference is justified is whether the conduct of the person is motivated by the desire to protect his economic interest, or whether it is motivated by spite, malice or any other inappropriate behavior. goal. "Burton v. Fountainhead Development, Inc., 393 P.3d 387 (Alaska 2017). My client is an amateur blogger and litigator against the Dunleavy administration, for which you are a widely known and eloquent supporter. You use your blog to attack what you perceive as its enemies and frequently write about the "Deep State." You have attacked Ms. Bakalar in your blog for years. You have no business relationship or financial interest in my client, her hobby blog or her job. Your continued harassment of Ms. Bakalar and the goad of your supporters to harass and threaten her, both at work and at home, is rooted exclusively in political disagreement, meanness and resentment, "according to Bakalar / Choate.
Bakalar has been a political actor for many years on and off social media, commenting on all manner of issues and political figures in Alaska as well as on former President Donald Trump. She and other liberal women traveled to Washington, DC to plead with Senator Lisa Murkowski to vote against Brett Kavanaugh's nomination to the Supreme Court, and Must read Alaska wrote about such and other exploits by the Juneau woman, who is a social media sensation, with over 9,000 followers on Twitter and who writes editorials for the Daily News from Anchorage. His blog is called One Hot Mess Alaska.
She alleged in her lawsuit against Dunleavy that her free speech rights were being violated by her administration.
The full letter threatening legal action follows:
[ad_2]