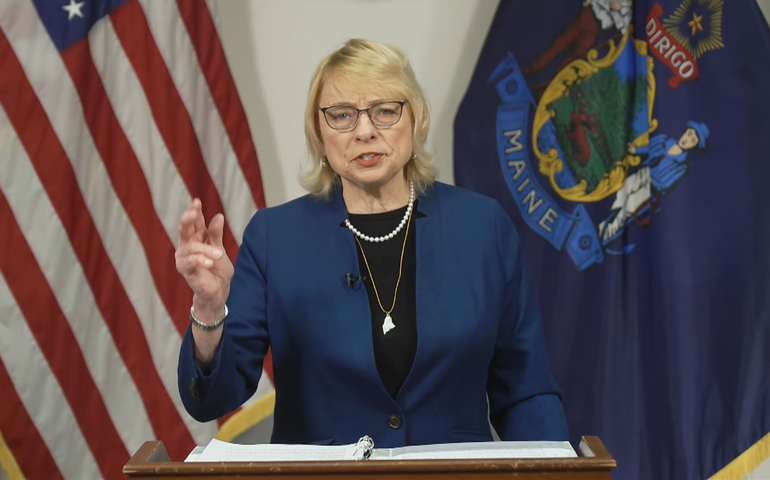 Mills is the latest Maine official to test positive for COVID-19
Governor Janet Mills, who is fully vaccinated and received two booster shots for the disease, tested positive for COVID-19 on Thursday and said she would self-isolate for at least five days under current health guidelines.
Mills tested positive using a BinaxNOW rapid test after developing mild throat irritation. She had no other symptoms, her office said.
Mills received her second booster dose on April 8, providing her with the highest level of protection available against serious complications or hospitalization from COVID-19.
"It's a good reminder that while we want to be over with COVID, it's not necessarily over with us," Mills said. "I am grateful for the strong protection the vaccine has given me, which I believe is one of the reasons why I still feel good. I will be spending the next few days working remotely, monitoring my symptoms, and fully recovering. »
After seeing her doctor, she was prescribed Paxlovid, an oral antiviral taken at home to prevent severe symptoms of COVID-19. President Joe Biden announced this week that he would make Paxlovid available to more pharmacies. The drug reduces the risk of hospitalization by 90%.
Mills was self-isolating and said she would follow all guidelines from the Maine Center for Disease Control and Prevention and the United States Centers for Disease Control and Prevention.
The governor tests frequently as a precaution. His last negative test result was on Tuesday afternoon. All of the governor's close contacts have been notified, his office said.
Mills hosted several public events this week, including signing bills to address Maine's housing shortage in Augusta and an appearance at Southern Maine Community College to promote two years of free tuition for students affected by the pandemic. .
On Friday, Maine reported 470 new cases of COVID-19, along with one additional death. Since the start of the pandemic, Maine has recorded 244,062 cases of COVID-19 and 2,283 deaths. As of Thursday, hospitalizations totaled 132, with 33 patients in intensive care and three on ventilators.
Mills is the latest Maine dignitary to test positive in recent months. U.S. Senator Susan Collins, R-Maine, tested positive for the virus on April 7, while U.S. Representative Jared Golden, D-Maine 2nd District, said in March he had tested positive. US Senator Angus King, I-Maine, tested positive in August 2021. All three politicians said they were fully vaccinated and boosted when positive.