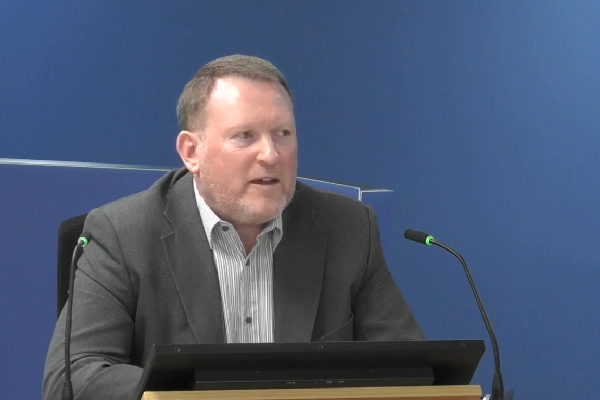 Inside Housing – News – Government official 'forgot' to clarify Grenfell-style cladding was banned
"I guess I was worried, but at the time I thought it was the best approach," Mr Martin said.
"For how long? How long were you going to allow this potentially extremely risky situation to continue before taking action?" asked Mr Millett (pictured above).
"I don't think we set the time then," Mr Martin said.
"Was it [this inaction] because it was simply unthinkable, and you have here in your hands the ingredients for a crisis that you simply could not conceive," Millett asked.
"I don't think that's it. I think it was just a potential problem and we would get more information," Martin said.
"But you are the government… You are the people who make things happen, you govern us. That's your goal," Millett said.
"At the time, it seemed like the right thing to do," Mr Martin replied, adding that relying on NHBC to lead "really relates to how we have come to work over the years" . "We were encouraged to work with industry or industry bodies to resolve issues where we could," he said.
Mr Martin was also asked about an email sent by consultancy Wintech in February 2014, which warned that 'leading developers, facade contractors and insulation manufacturers' were 'blatantly ignoring' the requirements fire safety as they strive to improve thermal performance.
The company invited his colleague to a meeting to discuss the matter, but only 19 minutes after receiving it, Mr Martin responded internally saying the invitation should be rejected.
"Yes [the rules on insulation performance] have made it impossible to safely coat a building, then we should look into the matter. Don't think this has ever happened," he wrote. "We are talking about a very important and expensive research project [to do so]… You wouldn't get much change with a million pounds.
No one from the department appears to have responded to Wintech's email.
"The truth is that you brushed off a carefully thought out and well written concern by an industry participant on an important life safety issue because, to be familiar, it sounded too much like hard work and expense to for you to investigate," Millette said.
"We had no authority or power to investigate…we didn't see that as our role," Martin replied.
"Do you accept, looking at it now, that this is very far from a serious reaction or response from a serious, security-conscious and humble official?" asked Mr. Millett.
"It's an internal email between colleagues," replied Mr. Martin.
Mr Martin remained in charge of building regulations covering fire safety following the Grenfell Tower fire and was promoted to Technical Policy Manager in November 2017. He remains employed by the department but has been transferred to a another position last September.
The investigation is continuing.