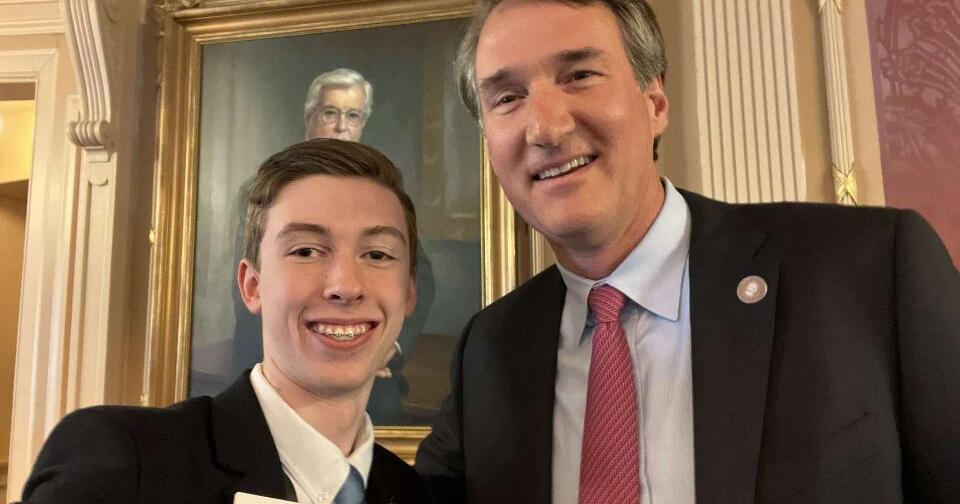 Halifax County student, aspiring politician, is General Assembly page | Local News
The future for this young Halifax County native is bright.
Will he be Virginia's next governor from the red clay farmlands of southern Piedmont? He may be.
Brennan Hunt, a 14-year-old eighth-grader at Halifax County Middle School, recently returned from Virginia's capital.
Hunt was chosen from 200 candidates to be a page for the 2022 regular session of the House of Delegates. After the long process of answering questions and writing an essay, a dream came true.
The excellent student consistently exceeded expectations in civics classes and scored 600 on his SOL.
It all started in seventh grade when teacher Susie Powell recommended that she apply for the program.
The seventh-grader had to get the same advice from other teachers, the principal, Dawn Miller, and James Edmonds, a Republican Party member in the Virginia House of Delegates representing the 60th district.
After fulfilling all the requirements to apply and completing the online applications, he waited patiently for a response.
The answer came while having dinner with his family and friends, celebrating the birthday of his grandfather, Mike Daniel. An email arrived on his phone announcing his acceptance.
On January 9, the young man traveled to Richmond to begin his new duties at the Capitol. A page typically works closely with office staff to deliver documents throughout the office complex, run errands for staff members, and whatever else they are called upon to do.
The group of pages sat during the session on a bench next to the podium. There were 45 pages chosen, and they were divided between the chamber and only half of them were allowed at a time. At other times, they were busy in the clerk's office with their homework.
Hunt worked in the Offices of Information and Communications (ICS), printing copies of bills and worked twice in the clerk's office on the third floor of the Capitol building.
He was also able to work in the Complex's Pocahontas building.
The group was also able to take a few short trips around the city in their free time.
One of the highlights of her trip was having dinner at the Governor's Mansion and meeting Governor Glenn Youngkin.
"He's a really nice guy, and he's 6'7". He's huge," Hunt said.
They were also able to catch a basketball game at VCU's Seigal Center, where the governor, his cabinet and the lobbyist played for charity for the Massey Cancer Center for cancer research.
The students participated in a debating event among themselves and the governor was also present during this function. It served as a simulation of a Cabinet session.
Virginia is the only state in the union to have a page program for its youth.
Hunt was able to get autographs on his badge and name tag, a sure memento of the once-in-a-lifetime occasion.
Hunt said, "I wanted to be a scientist or a math major at one time, but now I'm considering law school for a major. Maybe become a delegate representing Halifax County.
At this point, his choice of school is undecided.
What is certain is that Hunt wants to be a public servant of the people of Virginia and perhaps "one day run for governor."
"That's my ultimate goal," Hunt said. "But I would never want to be president," he added.
The young group of students stayed at the Omni Hotel in Richmond. Each was associated with a different page.
They were able to enjoy a fancy dinner at The Tobacco Company restaurant in historic Shockoe Slip, one of the area's favorite spots and Brennan said, "We ate way too much there."
He hopes to return there soon and see others.
Hunt is the son of Jami and Stephen Hunt of Halifax.
Along with excelling in college, Hunt was also a member of the Halifax County High School cross country team and is a member of the track team.