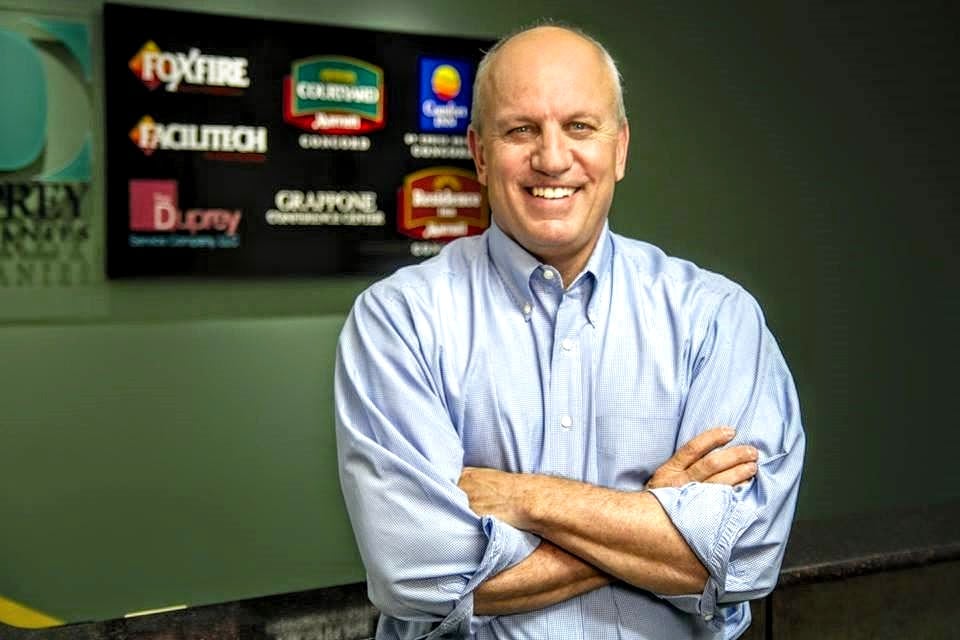 Governor selects Duprey to chair Pease Development Authority board
Steve Duprey, chairman of The Duprey Companies, based in Concord, and former Republican National Committee member from New Hampshire, is Gov. Christopher Sununu's choice to chair the board of the Pease Development Authority.
Duprey, confirmed by the Governor's Executive Council on March 9, succeeds Kevin Smith, who resigned as PDA chairman in February, as well as his post as Londonderry City Manager, to campaign full-time in as a Republican for the US Senate seat currently. held by Democrat Maggie Hassan. "I think the reason Chris asked me to do this is because I think I'm known for my common sense, and I think I have a reputation for listening well, on all sides of the debate, and to do my best to find common ground wherever you can," Duprey said.
His first meeting as President will be the regular monthly session of the Board of Directors on Thursday, April 21.
Duprey's arrival at the PDA comes as the council begins a lengthy review of a twin proposal to develop parcels at Portsmouth International Airport in Pease for air cargo handling.
The PDA oversees Portsmouth Airport, the Pease International Tradeport, Rochester Skyhaven Airport and the ports and harbors of Portsmouth, Rye and Hampton.
The creation of the PDA as a public entity grew out of the 1991 closure of what had been a Strategic Air Command base for the US Air Force.
The commercial port has two development zones – the airport zone, where development is limited to aeronautics, and the commercial zone of office buildings and light industry.
A development team consisting of Kane Company, Portsmouth-based developers, and Procon, a building services company in Hooksett, proposed the creation of two separate air cargo facilities at the airport. One is on the site of what is known as Hangar 27, a giant remnant of the commercial port's former life as an Air Force base, and the other on a site known as the name North 40, which is approximately 40 acres adjacent to the apron on the airport's northernmost edge, adjacent to the home of the New Hampshire Air Guard's 157th Air Refueling Wing.
Although no design concept has yet been submitted to the board for consideration, naysayers are already lining up to oppose it, citing concerns about a variety of impacts from increased air traffic and truck traffic inside and outside the airport.
"I anticipate that the April meeting will be my first," Duprey said. "I want to go meet the staff and the team. I hope they put together a substantial list of materials that I can read and catch up on.
"Do a good job"
Duprey said he has served every governor — Republican and Democrat — in a public capacity since Hugh Gallen, a Democrat who held the office from 1979 to 1982.
He has known the Sununu family for many years, having also served John H. Sununu, Republican Governor from 1983 to 1989.
He remembers that it was Judd Gregg, Republican governor from 1989 to 1993, who learned the bad news of the closure of Pease Air Force Base. But he credits Gregg with creating the redevelopment authority that assumed public control of the base land for possible future commercial development.
"I don't think Judd Gregg gets enough credit for having had the foresight to put together what was clearly an outstanding success," Duprey said. "The Pease redevelopment, despite some of the growing pains it went through, is a success story."
With Smith's resignation, Chris Sununu turned to Duprey and asked him to take the job.
The PDA Board of Directors has seven members. By law, one member (the president) is appointed by the governor and the Executive Council; one member is appointed by the Mayor and Portsmouth City Council; one member is appointed by the Newington Board of Selectors; one member is appointed by the President of the NH Senate; one member appointed by the Speaker of the NH House of Representatives; one member is appointed jointly by the council of elected officials of the city of Greenland and elected officials of Newington; and one member is appointed by a majority vote of the Strafford County Legislative Delegation,
Duprey said he received no instructions, no marching orders from Sununu on his role as chairman of the board.
"The governor just said, 'Do a good job,'" Duprey said.
In 2020, Sununu, through Smith, sought board approval to privatize the commercial port, selling the land to the developers. He was beaten, 5-2.
Currently, a developer owns the building but pays a ground lease to the PDA. Any effort to privatize the commercial port would require not only the approval of the legislature and the governor, but also that of the Federal Aviation Administration. It's an FAA executive order that revenue generated from commercial development must be used to support and maintain the airport there.
Asked about the notion of privatization, Duprey said: "In some cases it makes a lot of sense. In other cases, it makes no sense. There are certain things government entities do better and more efficiently than private entities. And there are other things where it is not.
He added, "I think it's a good thing for every organization to periodically review its mission and determine if it's fulfilling it. Is this the right mission? Is it still relevant? Any other better ways to do it? »
Duprey, a resident of Concord, served four terms as a state representative on the Republican National Committee until his replacement in January 2020. He is also a former state representative and was an active member of the Greater Concord Chamber of Commerce.
His Duprey companies include the operation of four hotels, the Grappone conference center in Concord, Foxfire Property Management and Facilitech Facilities Services. It has no financial interest or development project in the commercial port.
"I'm at a point in my career where I have the luxury of devoting more time to civic affairs simply because I have such a great team that runs my businesses better than I ever could," he said. he declares.
Paul Brean, executive director of the PDA, said he looked forward to Duprey's arrival.
"I am very pleased to welcome Mr. Duprey to the Pease Development Authority. Pease and the Ports and Harbors Division are responsible for economic development that benefits New Hampshire's coastline and state. As state entities, the initiatives of Pease and Ports and Harbors must coincide with public policy," Brean said.
"As a former legislator with a solid understanding of public policy, Mr. Duprey will provide valuable insight to both staff and fellow Council members," added Brean. "His success as a commercial real estate developer will be a beneficial resource for the continued success of Pease. I look forward to Mr. Duprey's leadership and am grateful for the appointment of a chairman with extensive experience in public policy and proven entrepreneurial success in the private sector.