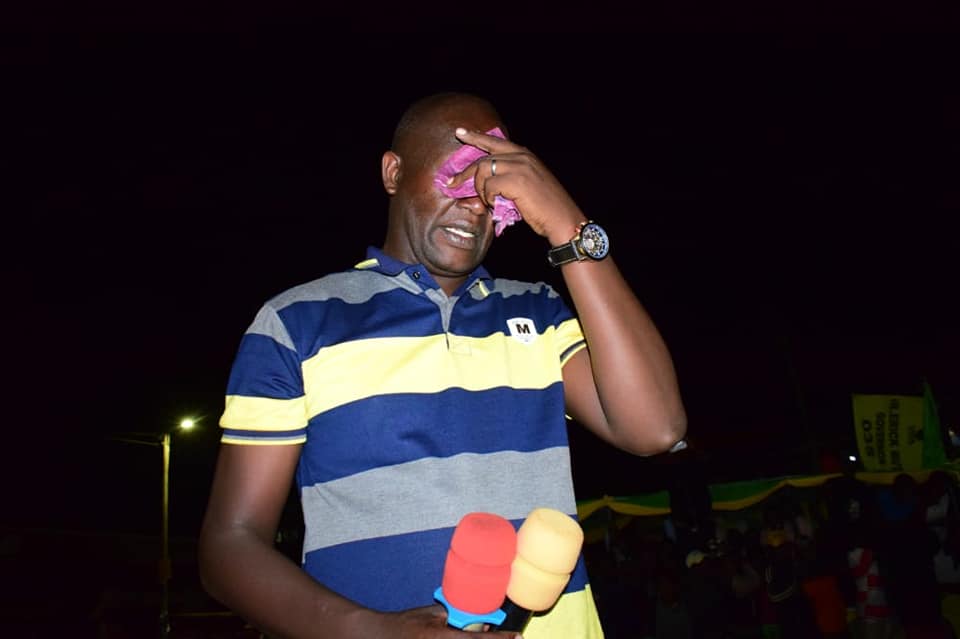 First-time politician cries as crowd raises funds to support his gubernatorial bid
Dr Erick Mutai, one of Kericho's gubernatorial aspirants, was moved to tears in Litein town on Saturday night by his supporters who offered to give him donations to support his campaigns.
In the Kenyan political arena, the politician visits an area and before leaving, those gathered to listen to him must be given handouts of between 50 and 100 shillings.
The documents are normally taken as an appreciation of the "field" for having listened to them.
For the lecturer and rookie politician who considered replacing the incumbent governor of Kericho, the reverse happened.
"A sea of ​​humanity has come to Litein City to welcome and engage us tonight," Dr Mutai said.
Dr. Mutai was campaigning and driving through the county for most of Saturday. His campaigns took place at night and he found himself in the city of Litein around 9 p.m. that evening.
Shortly after articulating his vision of solving water problems, upgrading mall infrastructure and supporting MSMEs, his supporters stepped up and started fundraising in small purses. provisions.
"I was truly touched and blessed by the scammers who spontaneously raised funds to finance my campaign. (Kongoi missing bikyok) Thank you very much our people," he posted on his official Facebook page shortly after.
In a short clip making the rounds on social media, supporters of the university's donation are seen rushing to part with Sh50 or Sh100 bills in support of its pursuit of Kericho's first seat.
During his election campaign, Mutai told residents of Litein town that he had no money for campaigns against his competitors, some of whom are established politicians and civil servants.
"If elected, I will make a difference and ensure that the poor are on par with the rich in my leadership. I will ensure that the doors of the upper county office are wide open to all, where those who have start-up problems will be heard," Mutai said.
However, the efforts of The standard reaching Mutai for comment all Sunday was futile. His phone was unreachable.
Mutai is in his early 40s and has given established figures eyeing the governorship of Kericho a hard time.
While making his political debut, the Embu University literature and communications professor was seen as a frontrunner in the race to succeed Governor Paul Chepkwony.
Kericho voters impressed with Mutai's campaigns and supportive of his candidacy have dubbed him "the Equalizer", a term coined to echo his call for justice, fairness and fairness.
"I was branded 'Equaliser' because I always told people that in every decision I made, I would be guided by justice, fairness and fairness," the father-of-two said. who is also a decentralization consultant.
"It's also an assurance to the people that I will lift the poor out of where they are right now in the perfect mold of the bottom-up economic model if I win the seat," added the don, who relies on supporters to fund his campaigns.
On why he wants to be governor, Dr. Mutai once said, "People had a discussion with me at these town hall meetings and I listened to them. They told me that I would serve them better as governor. It didn't take me by surprise as I had similar thoughts. I'll call it a coincidence.
It gave away veteran politicians, like former Decentralization Cabinet Secretary Charles Keter, who now calls himself the "Transformer".
The other candidates in the running are Lily Ng'ok, the current deputy governor, and Fred Kirui.