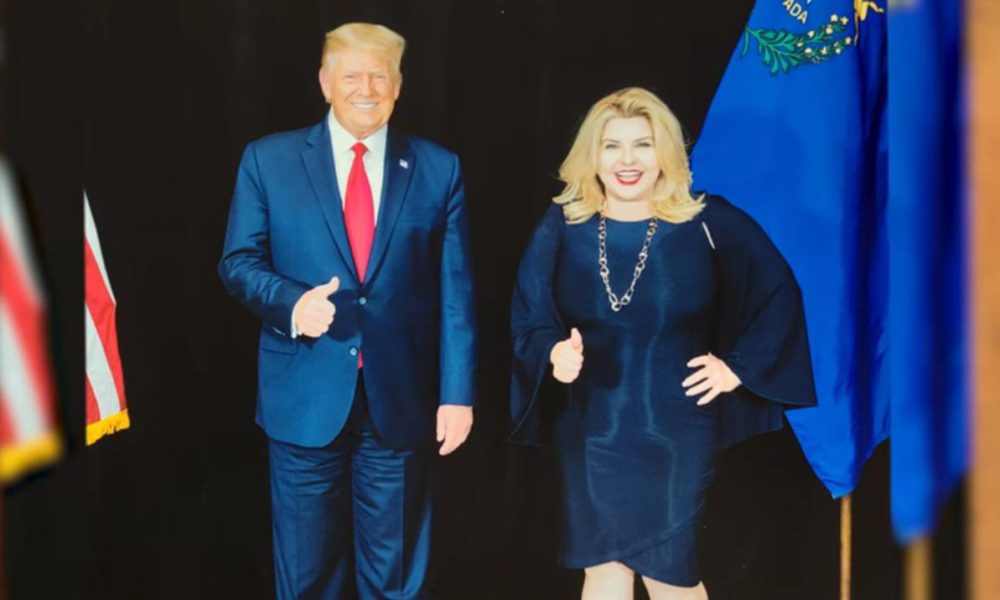 Another Republican politician says Uvalde shooter was 'transgender'
LAS VEGAS – Michelle Fiore, a member of the Las Vegas City Council, Republican candidate for Nevada State Treasurer, said at a recent campaign event that the 18-year-old shooter in the mass shooting of Uvalde, Texas suffered from a "damaged" mind due to "transgender" drugs.
Fiore was repeating discredited messages posted in right-wing circles on 4Chan and elsewhere that gained traction after Arizona Republican Congressman Paul Gosar, who espouses radical right-wing views and the MAGA philosophy of former President Trump, took to Twitter and spread a false, transphobic claim that the alleged shooter was a "transgender leftist illegal alien."
Gosar, is an anti-immigration, anti-vaxxer, hard-right radical who regularly approaches white nationalists. He was apparently promoting a false claim circulating on right-wing networks. Users shared images of a trans person unrelated to the attack, claiming they were the shooter. He then deleted the tweet.
Fiore's remarks were captured on video and tweeted by the Twitter user patriot takesan account run by a group of dedicated researchers monitoring and exposing right-wing extremism and other threats to democracy.
Michelle Fiore, Nevada's Republican candidate for state treasurer, wants to "ban pharmaceutical companies" which she says are "behind" "all mass shootings," including Uvalde's.

Fiore then falsely claimed that the shooter had a "damaged" mind due to "transgender" drugs. pic.twitter.com/TGIKQMoeS7

— PatriotTakes 🇺🇸 (@patriottakes) June 6, 2022
Fiore is a controversial figure in Nevada politics. One of the state's most respected and prominent newspapers, the Reno Gazette-Journal, reported last month that Fiore's career was marred by problems with the taxman and an FBI investigation.
In late 2014, Fiore, then Assembly Majority Leader and Tax Committee Chair, found herself under scrutiny after reports surfaced that the IRS had filed over $1 million. dollars in tax liens against her and her home health care business. Some of those privileges dated back to 2003, the Reno Gazette-Journal reported.
According to the IRS, a federal tax lien is a legal charge against your property that arises when you neglect or fail to pay a tax debt.
In response to the reports, Fiore blamed her IRS troubles on her ex-husband and an unnamed accountant, who Fiore said stole her business over a three-year period. Fiore also said at the time that she was in full compliance with the IRS and was taking care of her debts through a payment plan.
Last year, the Las Vegas Review-Journal reported that FBI agents had opened an investigation into Fiore's campaign finances.
As part of the investigation, according to the newspaper, the FBI had raided Fiore's home in northwest Las Vegas in January 2021. Over the following months, the FBI also served Fiore with subpoenas for materials related to his campaign and his political action committee, Future for Nevadans. , and openly interviewed witnesses at Las Vegas City Hall last July.
More than a year after the alleged start of the investigation, the progress of the investigation is unclear.
The Council member is also a supporter of former President Donald Trump. At the height of the coronavirus pandemic shutdowns in Las Vegas, she suggested efforts to keep the city shut down to stop the spread of the virus were futile, accusing 'propaganda' of making people judge themselves and "hating" each other and suggesting it was important to speak out despite so-called liberal media attacks, reports the Las Vegas Review-Journal.
Fiore had drawn national attention for his support of armed militias who clashed with federal law enforcement officials in gun battles over the past decade.
The Nevada Current, a nonprofit online source of political and political news and commentary, reported last month that the Republican Brandon was elected as a Las Vegas City Councilman in 2017. Prior to his election, Fiore served two terms in the Nevada Assembly. before leaving to run for Congress, but did not make it past the primaries.
She also served as mayor of Las Vegas Pro Tem until she left office after being criticized for racist comments at the Clark County Republican Party convention in June.
Fiore is characterized as something of a political outsider despite his longtime involvement in state government. The self-proclaimed "Lady Trump" said she would use her role as state treasurer if elected to "bring outside pressure" if other Republicans "stop me from helping Nevadans."
"I have a loyal fan base for a reason – I work for them and no one else. No vested interests. No party bosses. They know I'll bat for them when they need me" , Fiore said in an email to Current.
In addition to Trump, Fiore has been endorsed by controversial Republican politicians and figures such as Sheriff Joe Arpaio, far-right radio host Wayne Allyn Root and Texas Senator Ted Cruz. She has also been endorsed by the Republican Party of Nevada and the Nevada Veterans Association, as well as several Republican county commissioners in Nevada.